FAQs
Q.1. How to Apply?
Ans: For Complete Admission procedure click here
Q. 2. Tuition Fee Structure
Ans: The approved Tuition Fee for Academic Year 2018-2019 at Quaid-e-Azam Public College, Gujranwala relating to each section are as follows: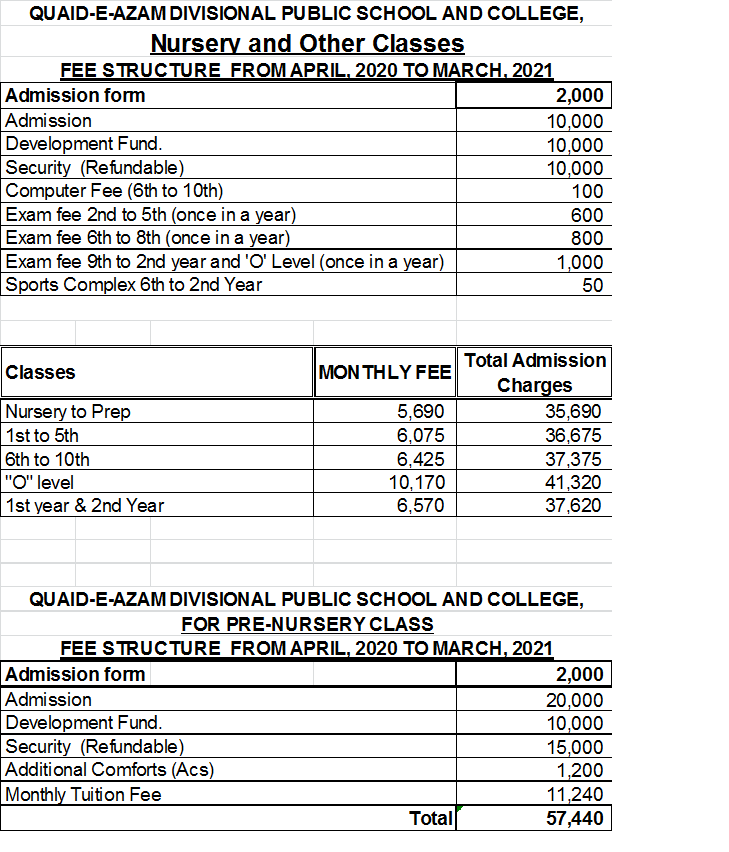 Q.3. Sibling Discounts
Ans: No, there is no such discount available in QPC.
Q.4. Transport Facility?
Ans: Yes, for Kamoki, Daska, Wazirabd, DC Colony, Wapda town & Ganden Town.
Q.5.  Transport Route?
Ans: QPC bus service operates in a radius of 35 km around the school, it covers the nearby towns of Wazirabad, Daska, Gujranwala Cantt and Kamonke. There are several routes of bus which covers the internal areas of Gujranwala city.
| | |
| --- | --- |
| Bus | Route(s) |
| 1 | Wazirabad |
| 2 | Daska |
| 3 | Kamonke |
| | Gujranwala Cantt. |
| 5 | Garden Town |
| 6 | Peoples Colony |
| 7 | Wapda Town |
Q.6 Declining the bus service?
Ans: Any student willing the decline the bus service has to put forward an application, the already transport fee is not refunded.
Q.7. Student Placement and Class Sizes?
Ans: As per policy there can be 35 students in a class, which may wary due to different circumstances. All the sections comprises of equally capable and week students.
At the end ofeach academic year, it is the school's policy to mix and reallocate all classes/sections  throughout the school. This process is undertaken to ensure the even intellectual level of the sections.
Q. 8. School Uniform?
Ans:
Season

Girls

Boys

Summer

Half sleeves blouse-Tunic set with college monogram and red belt
White shalwar or white leggie panty for younger, kids of Nursary, Prep
White stoll/scarf/sash accordingly.
Black school shoe, white socks.
Hair catch, hair band or ribbons to be red.
No gold jewellery allowed.

Half sleeves sky blue shirt with college monogram on the pocket.
Navy blue shorts upto class IV & grey trousers in class V with black belt.
Oxford black shoes and black socks.

Winter

Full sleeve shirt.
White shalwar
Red pull over (full & half sleeves)
Red blazer

Full sleeve shirt (sky blue)
Grey trousers.
Grey pull over (full & half sleeves)
Navy blue blazer.
Necktie
Q.8.  Entrance Assessment for New Students?
Ans: At the time of admission the students undergo an entrance test and the students achieving the desired level are given admission. This test is held in the month of February. The admission forms are obtained from the admission office of the school.
Q.10. Toilet Training for Foundation Stage students?
Ans: For health and safety reasons, students entering Foundation Stage 1 or Foundation Stage 2 must be toilet-trained.
Q.11. QPC Timings?
Ans:
Junior School: 08:15 A.M to 01:45 P.M.                                    
Boys School/Boys College:  08:00 A.M to 01:45 P.M.                   
Girls School /Girls College: 08:00 A.M to 01:45 P.M.                    
Q. 12.  Sections in the School ?
Ans: The school is divided into four three main sections, namely, Boys College, Girls College, Boys School & Junior School.
Q.13. Parent-Teacher Meetings ?
Ans: PTMs are held after every major examination. Which proves to be a very good tool for the improvement of the students.